Trekking on Lake Maggiore is one of the most popular outdoor activities
It is the era of slow and conscious travel and the lakeside lands are the most suitable for experiencing outdoor experiences, in contact with Nature and respecting the environment.
Trekking is one of the most popular activities thanks to the proliferation of real professionals in the sector who trace the routes and then guide tourists.
When you think of pre-alpine lakes such as Lake Maggiore, you need to keep in mind the many leisure opportunities that it can offer in addition to water sports.
A ring around Lake Maggiore
The landscapes that open to the sight of tourists and hikers are real naturalistic environments immersed in woods and mountains.
You can go forward to face long and demanding walks or simple routes in the company of children.
Both shores of Lake Maggiore offer many opportunities for trekking enthusiasts
Today, 20 April 2021, it is news that a group of young hikers residing on these wonderful shores has launched a new initiative:
"… outline a walking route that allows you to explore the area slowly, consciously and respectfully of the territory and of those who live there …"
The project takes the name of Tracciaminima- 11 stages and over 220 km to cover the whole lake.
More info at this LINK
Sustainable tourism and passion for nature
We manage a structure in the heart of the lakeside town of Luino, one of the tourist destinations on the Lombard shore and our vision is precisely to encourage healthy tourism.
We often define it as detox tourism because our guests are mainly tourists looking for ways of leisure and relaxation far from luxury and highly technological tourism.
The customers of our hotel come from Italy and the rest of the world, with the greatest turnout from Northern Europe.
They dedicate their days to hiking, cultural visits and relaxing on the beach.
They are lovers of the lake and its climate.
Trekking and guides
We know that trekking is an activity that can be practiced by everyone, adults and children, always with the necessary precautions and the right equipment.
The choice of the most suitable routes for you depends a lot on how trained you are, on the type of experience you already have.
In any case, our advice is to always rely on guides and to choose safe and well-marked paths.
In this regard, you can ask for information at our reception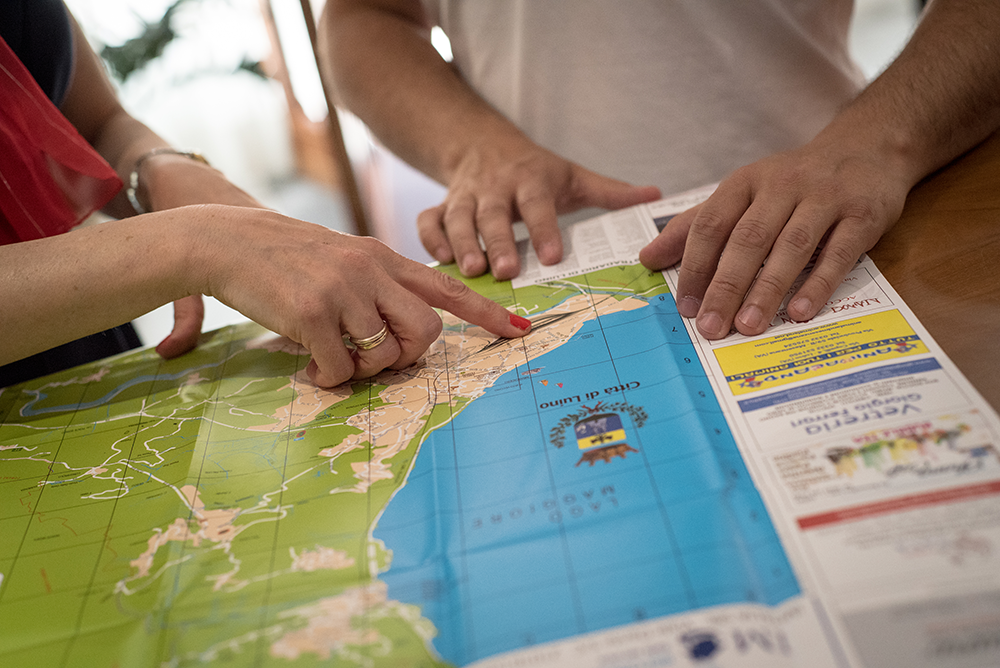 The International Hotel in Luino
Our hotel is a recently renovated property.
We welcome you in comfortable rooms, well furnished in a modern and minimal style.
The reception is the place where you will meet the smile of our staff.
You can stay with us with your four-legged friend.
You can find everything you need to know about Hotel Internazionale in Luino HERE