The types of our rooms
Hi Luino offers three types of hotel rooms: double, single and double, but it is also possible to book double rooms for single use.
Our rooms are very well kept. They have minimal and essential style furnishings, which recall the interior settings of modern northern European hotels.
We have thought of everything to give our guests practicality and comfort: the open wardrobes are equipped with a large drawer and support for your luggage. The wall lamps have been replaced by a modern retractable lighting system positioned behind the headboard of the bed.
The furniture and accessories have been designed for those who love well-ordered spaces.
We have 40 rooms, 11 singles and 29 doubles, two of which are accessible, dedicated to guests with disabilities.
In our rooms, open wardrobes and led lights.
The most modern hotel design of a hotel room takes into consideration the functionality of the spaces and the elimination of clutter elements as a priority
The doors of the wardrobes and drawers are reduced to the essentials.
To increase the functionality of our rooms we have adopted open wardrobes, with a nice suitcase shelf and a simple day hanger.
In this way you will have suitable spaces in which you can easily organize your stay, be it long or short, and you will always have everything at hand without having a mess effect in the room and you will not risk forgetting anything in wardrobes and drawers. .
Essentiality is also guaranteed by the replacement of traditional wall lamps or bedside tables, with integrated LED lights positioned behind the bed.
The room will have the right light and at the time we will also have safeguarded energy savings.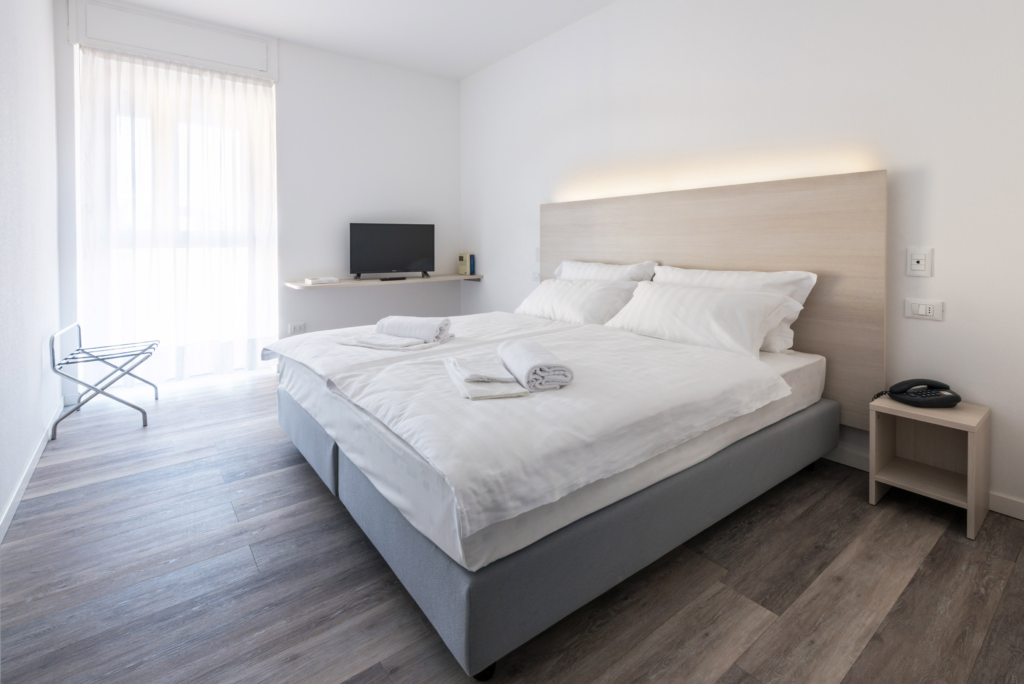 Cleanliness in the Hotel
Our staff on the floors carries out a meticulous and constant job of cleaning the rooms and bathrooms as well as the common areas.
Today more than ever we guarantee the utmost attention in the care of disinfection and sanitation.
We have adopted the system of daily sanitation of the premises using ozone generators, to ensure protection and safety of customers and staff.
We welcome you in compliance with current legislation on Covid prevention19
INTERNATIONAL HOTEL
The facilities of our rooms
Air conditioning
Parking
Breakfast included
Free WiFi
Hair dryer
LCD TV
Minibar
Safe
Free bicycles
Petfriendly
THE ROOMS
DOUBLE | SINGLE | DOUBLE |